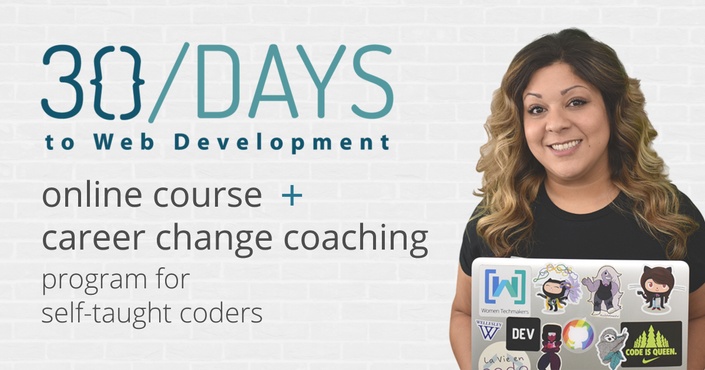 30 Days to Web Development
Course + coaching program for web development career changers
Watch Promo

Next enrollment period begins September 2019
→ Sign up for notifications! ←
Thinking about learning to code, but:
You can't afford a Computer Science degree?
You're afraid programming is "too hard"?
You're worried about your lack of math or logic skills?
You don't know anything about web development?
You weren't a very good student in high school or college?
If you want to learn to build cool stuff on the web—and even change careers—there are enough resources available online in 2019 that you can teach yourself!
But here's the problem: learning to code is HARD, not easy.
Teaching yourself can make it even harder, because you don't have the guidance of a teacher or mentor.
You'll have lots of questions, like:
What if I haven't been in an educational environment in years?
What if I have no idea what teaching yourself entails? (most people don't!)
How can I learn as much as a 4-year Computer Science student online?
How can I learn to code while working a full-time job, or caring for kids?
How can I get a job as quickly as possible, so there are no gaps in my income?
What students need is a step-by-step preparation course to get them ready for their self-education—and this course is it. I like to call it the "jet pack" for popular e-Learning platforms like freeCodeCamp, Treehouse, Udemy, Coursera, and more!
After 30 Days to Web Development, you WILL be:
Over the fear and anxiety that may be keeping you in place
Comfortable with being uncomfortable
Confident in your ability to transition careers
Climbing out of learning ruts more quickly than your peers
Armed with valuable brain hacks and resources
Absorbing (and retaining!) the complex new information you'll be learning
More relaxed and productive while learning to code
More likely to land your ideal web development job title AND description
More attractive to potential employers
Successfully networking with the industry professionals you want to learn from
This course is a packaged solution to the majority of issues students face when teaching themselves to code, such as lack of confidence, and being a "slow learner".
In addition to the course itself, you'll be able to leverage the 30 Days to Web Development Workbook to fill out as you progress in the course, to keep track of all your work in one place.
You're not going to find not just a course, but a transformation exactly like this anywhere—because nobody is talking about all these issues in one place, with the student at the center of it all.
You'll get my valuable experience and insight, alongside guidance and advice directly from industry professionals and hiring companies themselves.
Not sure if you're a good fit?
You'd be a wonderful fit for the course if any of these describe you:
1. You've played around with the idea of learning to code for a while, but haven't yet taken the plunge.
2. You've been trying to learn on your own for a while, but it's just not going so hot.
3. You are learning, and doing well, but still encounter issues with retaining what you learn.

4. You've never even considered learning to code, but are currently unhappy with your career.
But don't take it from me...
Read these rave reviews by actual students!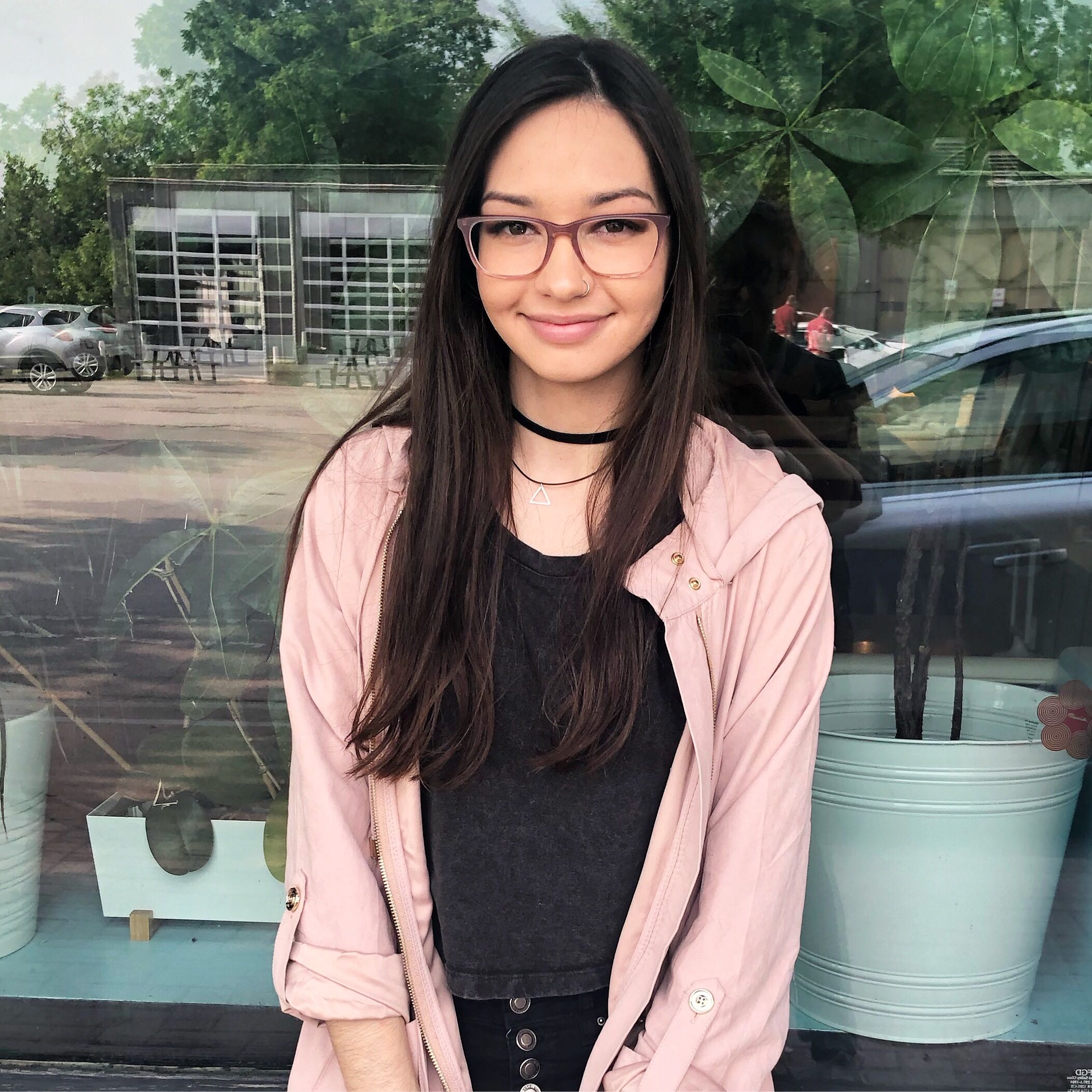 "I love the way that you explain things, plus the notes with links and extra information, and the workbook questions really make you think about how to improve... I don't know where I'd be without it.
There is so much valuable content, and you get lifetime access so you get anything new that is added and can reference that material whenever needed. With the coaching calls, you get help that is specifically tailored to whatever your personal needs are."
Sally Kader (@thesallynov)
30DWD Student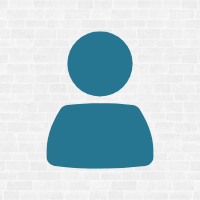 "Nicole: You are a fantastic writer. I think that a lot of e-teachers lose credibility with me because their understanding of the world and other people is unclear or too simplistic or white or just plain doesn't sit right with me. Your accomplishments alone contribute a lot to your credibility as a course-author—but also you've obviously been really intentional in choosing your words at every step of this course, which gives me a lot of faith in you and in this process.

[...] your narrative is one of the biggest strengths and the biggest draws of this course. Learning about the ways in which you've failed at learning things has taught me even more than your successes."
- Candice, 30DWD Beta Student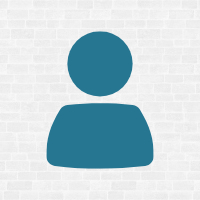 "The course content is well considered and thorough, it doesn't feel like anything has been left out. [...] The 7 Steps for effective problem solving provide a good structure to follow. The suggestion of writing out the code in words is really helpful in systematic problem-solving.
I could definitely relate to certain aspects of Nicole's story, such as spending too much time procrastinating and focusing on the wrong study material causing disconnected skills.
[...] I found Nicole's journey inspirational, as she set a goal to change careers and attained it by being determined and finding solutions to overcome her obstacles."
- Carla, 30DWD Beta Student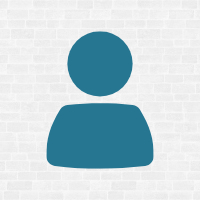 "I learned to harness resources available now that weren't around when I first started in the early 1990's. Second, I learned not to get discouraged. I will get there in time, I just have to keep at it.
[Her story is] eerily similar to mine, dead end jobs that weren't going anywhere being bored to the core at admin type jobs that were holding me back."
- Scott, 30DWD Beta Student
Your Instructor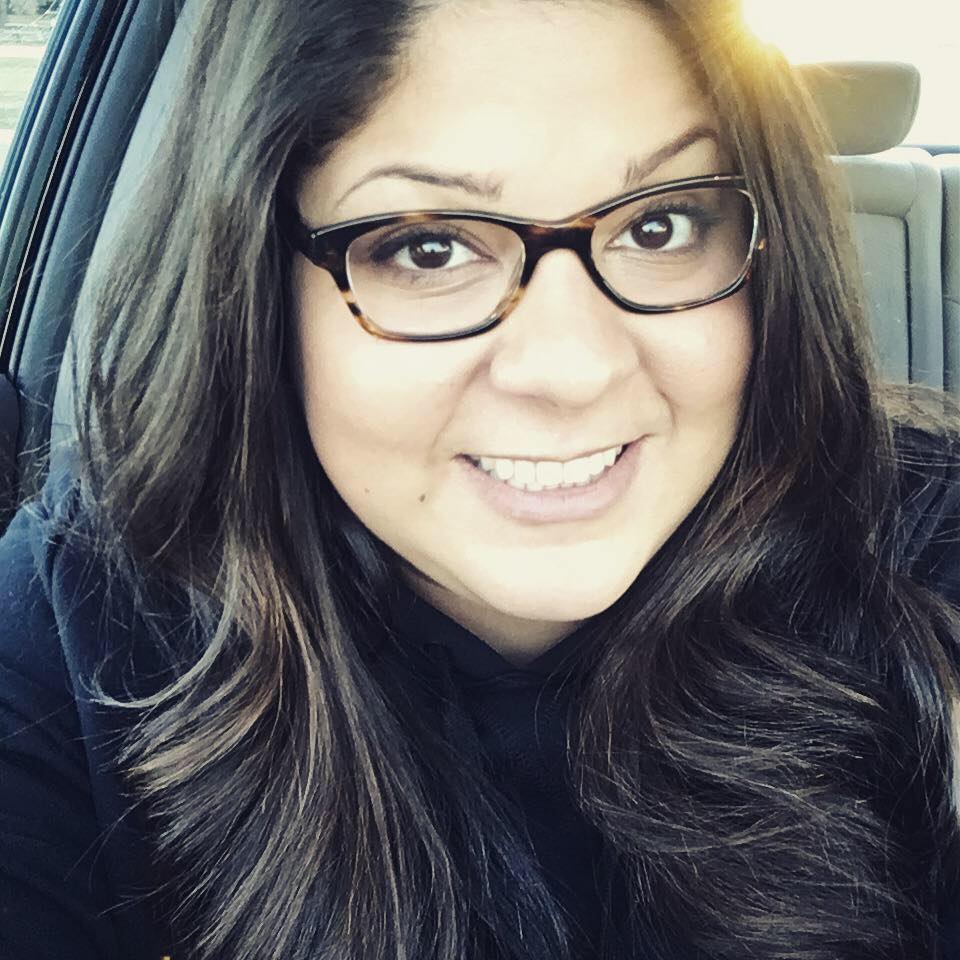 Nicole Archambault is a Boston area Front-End Web Developer and entrepreneur. Her entire career is centered on optimizing the experience of those who choose to teach themselves programming skills in lieu of a more traditional academic setting, or bootcamp.
She has received several awards and recognitions through her work in the developer community, including freeCodeCamp Top Contributor, and has been featured as a Treehouse Success Story. She has been teaching everything she knows through her site, La Vie en Code, via the LVEC Blog and LVEC Podcast.
Course Curriculum
Week 0: Welcome to 30 Days to Web Development!
Available in days
days after you enroll
What you'll get: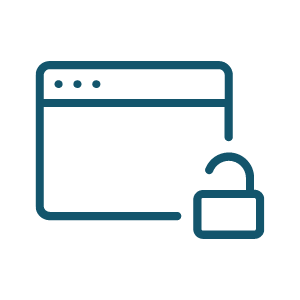 Lifetime access to the 30 Days to Web Development course. You'll get updates whenever they're made, and lifetime support from the 30 Days to Web Development community via the Slack chat.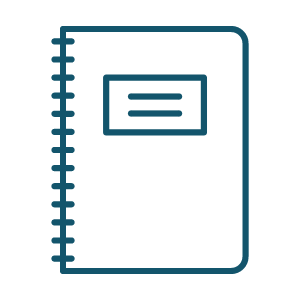 Access to the companion 30 Days to Web Development Workbook, an interactive web guide to help you keep all your notes in one place, and chart your career transition journey. The workbook lets you participate interactively with the course, and facilitates independent, critical thinking.
A Letter from Your Instructor, Nicole
Hey there, Nicole here!

I just wanted to tell you, personally, that this course is going to change your life. I mean, of course I'm saying that—it's my course. 😉
But, you should learn from someone who understands what you're going through, and has faced the questions and challenges you're facing.
I understand how difficult the decision to change careers can be. The tech industry might make it more streamlined than most... but it's certainly no easier. After making the decision for myself in 2015, I started keeping a list of all the frustrations I faced while learning to code. I remember that my anxiety only increased when I talked to professional developers about my struggles, and they told me that my approach was disjointed at best.
Some recommended I keep on it, and others recommended I try something like a bootcamp. But I was determined to make self-education work for me.
Searching and applying for jobs was like feeling around in the pitch dark with my arms out, with hopes of—but also deathly afraid of—touching something. Would it be what I wanted it to be, or something scary?
I finally gave in. I conceded that the way I was doing things just wasn't going to fly, and it was stressing me the hell out. This happened after a few times of very real, very serious burnout.
Applying a solid career change plan to my journey was the single smartest thing I ever did in terms of the entire experience. And, I never would have done it if it weren't for the help of my developer friends who told me that I was doing it "wrong". Although I was defensive at first, you eventually just get to a point where you know things have to change. However, you might not know what exactly you should change to.
Now, I want to help YOU avoid the frustration and wasted energy that I faced before I finally got it right. Because I would never wish that on anyone. I legit wasn't sure I was going to make it at times.
So, if you're considering learning to code, you need this course. 30 Days to Web Development is exactly what I wish I had when I was teaching myself web development.
I can't wait to see your transformation from a confused newbie to a confident and productive web development student! And as soon as you sign up, you'll be getting a completely personalized video from me to welcome you on, and open myself up to your unique story.
Let's do this together, new dev friend! I believe in you!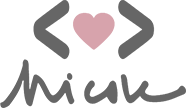 Nicole Archambault
30 Days to Web Development Creator
Frequently Asked Questions
When does the course start and finish?
30 Days to Web Development is structured as a completely self-paced online course — you decide when you start and when you finish. It is designed to be completed in 30 days on average, but you may complete it sooner or later than this.
How long do I have access to the course?
How does lifetime access sound?! After enrolling, you have unlimited access to this course for as long as you like - across any and all devices you own!
What if I am unhappy with the course?
If you're still considering purchasing the course, please be sure to check the "Not sure if you're a good fit?" section of this page. But if you've already purchased course access, I would never want you to be unhappy! If you are unsatisfied with your purchase, contact me in the first 30 days and I will give you a full refund. The only thing I ask is some feedback on what you didn't like, which you should include right in the email. It will help me improve in the areas students believe fall short of their expectations.
Next enrollment period begins September 2019
→ Sign up for notifications! ←
This course is closed for enrollment.